Detroit youth are discussing race, politics, power, and justice through the arts. The big story, from journalist Kimberly Hayes Taylor, photographer Nick Hagen and the team at Model D Media:
---
"You can't just talk about race anywhere"
Detroit youth explore race through the arts

by Kimberly Hayes Taylor | Model D Media, Monday, Dec. 4, 2017
Raymond Underwood desperately needed a way to express the elixir of emotions he was feeling about America's racial turmoil.
He wondered why people quipped "All Lives Matter" whenever African Americans simply proclaimed "Black Lives Matter." He saw young black people throwing their hands up, and pondered if others understood. And after Eric Garner was choked to death in 2015 by a New York City police officer for illegally selling loose cigarettes, Underwood failed to understand why few white Americans were wearing T-shirts shouting "I Can't Breathe," a rallying cry for the protest movement.
So when he got a chance to participate in a Hagopian Rugs design competition at the Henry Ford Academy: School for Creative Studies in Detroit, the-then high school junior bottled his frustration, pain, anger, and confusion about the racial and social justice issues plaguing the nation and poured them into his design, an abstract image of a raised fist.
He won first place and a $350 prize.
"The fist means so much," says Underwood, a 17-year-old senior at the art school who plans to study photography at the College for Creative Studies next year. "The Black Lives Matter movement is still somewhat not recognized. That's why the fist is hidden inside the pattern. When you first look at it, you can't see it, but when you take a closer look, you recognize it. It's like the movement. When you can see it, you recognize it."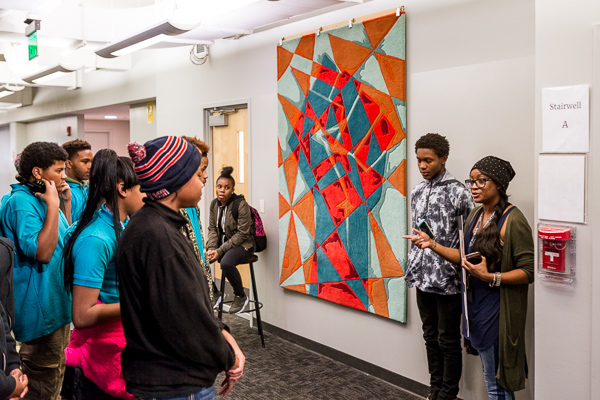 Shelandra Kyles, the art teacher heading up the Hagopian Rug Program for this school year, show her students Underwood's finished rug
The design competition and art programming at the high school is one among a plethora of art programs across the city that offer young Detroiters rich, textured avenues for artistic expression about contemporary racial, cultural, and social justice issues. Through these programs, students come to view these complex topics more clearly and work through their own feelings.
On Wednesday afternoons at Detroit Public Library's main branch, students from around the city gather to share spoken word pieces at the InsideOut Literary Arts Project's Citywide Poets, a literary community for young people to explore their lives through written and spoken word. The young poets, who also meet at four other city locations, study and write poems, review essays, video clips, and explore other art forms.
Damon Hogan, a Wayne State University sophomore, has been a Citywide Poet since his brother took him to a meetup when he was in eighth grade. There, he discovered a platform for candor about raw emotions concerning race, social injustices, and other touchy topics like police brutality.
"You can't just talk about race anywhere," says Hogan, a member of the 2017 Detroit Youth Poetry Slam Team, which represented Detroit in the Brave New Voices International Youth Poetry Festival in San Francisco this year.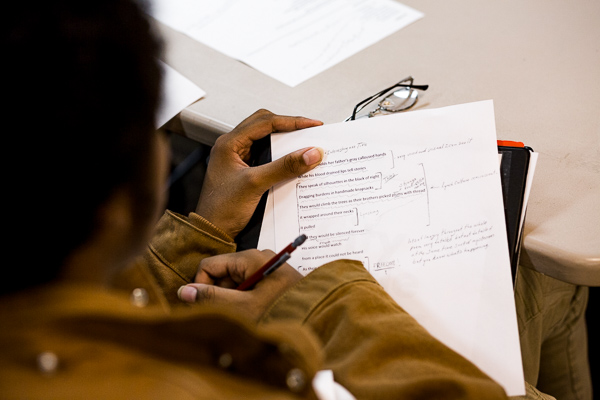 A Citywide Poet reviews a poem
"People will look at you with a side eye and will be like, 'Why are you talking about race? It's not about that.' With poetry, you can. Poetry is the most fluid form of emotion and expression. You can twist it, change perspectives. You can become a character; you can even become racism to understand it."
He recently penned a poem titled "Code Switching" to discuss how black people often change the way they speak to make white people more comfortable, and why he refuses to do that.
"I'm not about to change the way I speak to please somebody who probably doesn't care about me," Hogan says.
The 19-year-old says the seven years spent with InsideOut has transformed him from being a timid youth afraid to share to a brave soul living out loud. Besides giving him a voice, he's cultivated a second family of writers, and gotten comfortable performing for audiences, where he's flourished in spoken word competitions around the city and nation. He's heartbroken about aging out this year, but aspires to become a coach for other young poets.
For Detroiter A'Janae Neal, a poet, guitarist, and modern dancer, the arts project has helped her shed shyness and open herself to others. Her works have been featured on Michigan Public Radio, and she's recently written poems about Detroit's 1967 riot, racial stereotypes, and black mothers' fear of their children confronting racism. Neal, 16, says Citywide Poets helped her release emotions concerning the election of Donald Trump and his immigration and nationalistic policies.
"When Trump got elected we were all on edge," she says. "So we got to talk about that, all of it. … We watch the news, hear things, see things in our neighborhoods and stuff riding the bus, and we are encouraged to write poems about it."
Their coach, Benjamin Alfaro, the Youth Leadership Coordinator and Writer-in-Residence for the InsideOut Literary Arts Project, says the project creates a safe place for young people to be themselves.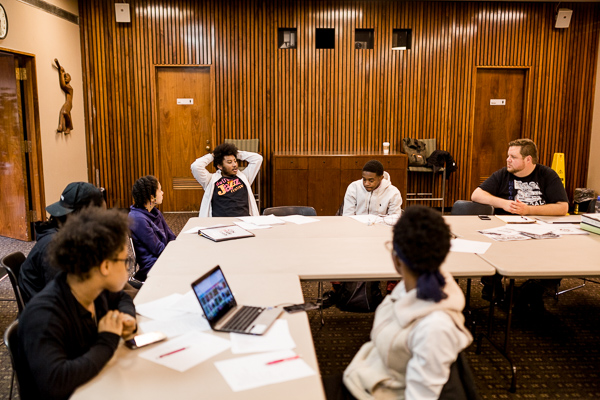 A meeting for City Wide Poets at the Detroit Public Library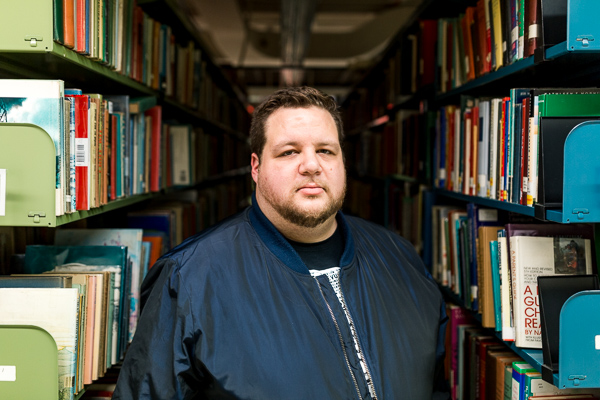 Benjamin Alfaro
"They don't have to sugar coat their experiences," he says. "This is a space where we value one another's opinions and views on how we see the world, and they are trying to make sense of the chaos and systematic challenges they face every day."
Alfaro's own work has appeared in an array of literary journals. He is co-author of the collaborative poetry collection, "Home Court" (Red Beard Press, 2014), co-founder of Louder Than a Bomb, the Michigan youth poetry festival, and has been featured on Michigan Public Radio and in HBO's "Brave New Voices," a 2008 series showcasing a new generation of teen poets. He was also recently named a 2017 Kresge Literary Arts Fellow.
He wants youth to taste that level of success, but not at the expense of creating for popularity or outside approval. Art, he says, "is a measure of progress, not perfection."
"My goal is not to have them write the best poem or to win a Pulitzer (Prize). The biggest goal is to give them tangible tools to be more observational about the world around them."
In youth programs sponsored by the Matrix Theatre Company, Colleen Cartwright strives to create similar experiences for young actors and playwrights, who conceive, write, and perform their own shows.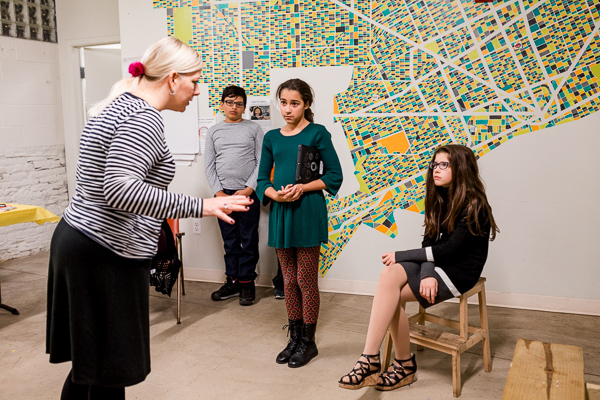 Acting teacher, Melissa Garcia with her students from the Matrix School of Theatre Playwriting & Performance Class
"We ask them, 'What do you like about your community? What are some things you see in your community that is not so great?' With that, sometimes race or culture comes up," says Cartwright.
As Director of Education for the theatre company, she focuses on building community, improving lives, and fostering social justice, and engages about 1,500 young artists ages five to 18 in playwriting and performance for transformation. Programming is offered on-site in its Southwest Detroit headquarters and in Detroit schools.
"They get a safe space to explore these topics. We're surprised by how little that's offered to young people. They have opinions, and they have some very strong things to say about it; they have profound thoughts about it."
This article is part of Michigan Nightlight, a series of stories about the programs and people that positively impact the lives of Michigan kids. It is made possible with funding from the W.K. Kellogg Foundation. Read more in the series here.
All photos by Nick Hagen.